Letter from the Principal, Jacqueline Parker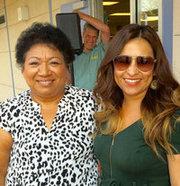 Dear Sassarini Families and Friends, I am excited to welcome all of our new and returning families to the new school year. I hope you had a summer filled with lots of great memories, and that you are looking forward to the start of school. As the new Principal of Sassarini Elementary School, it has been my sincere pleasure and honor to become a member of this great school community. Sassarini enjoys a rich history of partnership between the school staff and parents who provide a diversity of experiences for the students. During my first weeks in the district, I have indeed found this close working relationship and focus upon what is best for children to exist. I am truly honored to be appointed to this position, and I am looking forward to working with the dedicated staff to provide the best possible educational program for our students.
Before coming to Sassarini Elementary School, my professional career was entirely within the San Rafael City Schools for many years. I held the position of teacher, Project Coordinator, Summer School Principal, Instructional Program Manager, and Academic Dean. Although my former school district was in a different county, what I find comparable is the child-centered approach to education which characterizes both districts and results in an excellent school program. Parents and staff who collaboratively work together each day for the students is the exemplary quality that attracted me to Sonoma Valley Unified School District.
I am very excited to be a part of the Sassarini family and to closely work with everyone to make our school even better. My greatest initiative is to provide the leadership that will facilitate a school environment to provide differentiated instruction to meet the needs of each student to the best of our ability. The educational program must be academically challenging, engage each student by linking the curriculum to previous knowledge and experiences, and also be exciting to promote further exploration of new ideas. Parents, teachers, support staff, and administration all have an important role to encourage our children to become active learners.
It is my heartfelt desire to provide expanded opportunities for our students to acquire the skills to become productive citizens in a vastly changing society. Through a close and collegial partnership with everyone associated with Sassarini Elementary School, I am confident we can make our school an even better place for our students to learn and grow.
Respectfully,

Jacqueline Parker, Principal
---
---
---
Estimadas familias y amigos de Sassarini,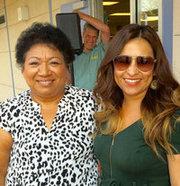 Estoy emocionada de darles la bienvenida a todas nuestras familias nuevas y a los que regresan al año escolar nuevo. Espero que hayan tenido un verano lleno de grandes memorias y que ustedes también estén esperando el comienzo de clases.
Como la nueva directora de la escuela Sassarini, ha sido un sincero placer y honor formar parte de esta gran comunidad escolar. La escuela Sassarini goza de una sociedad e historia rica entre el personal docente los padres quienes proveen una diversidad de experiencias para los estudiantes. Durante mis primeras semanas en el Distrito, en verdad he encontrado esta relación cercana y el enfoque puesto en lo que es mejor para la existencia de los niños.
Estoy muy honrada de haber sido escogida para esta puesto, y espero poder trabajar con el personal dedicado a proveer el mejor programa educacional para nuestros estudiantes. Antes de venir a la Escuela Sassarini mi carrera profesional ha sido enteramente en las escuelas de la ciudad de San Rafael por muchos años. Estuve en el puesto de maestra, Coordinadora de proyectos y Directora del programa de clases de Verano, Supervisora de Programas de instrucción, y Decano Académico. Aunque mi distrito escolar previo fue en otro condado, lo que he encontrado que caracteriza a ambos distritos es la manera de cómo la educación está centrada en los estudiantes, lo cual resulta en un excelente programa escolar. Padres y personal que colaboran y trabajan juntos cada día para los estudiantes es una cualidad ejemplar que me atrajo al Distrito Unificado de Sonoma.
Estoy muy emocionada de ser parte de la familia de Sassarini y de trabajar de cerca con todos para mejorar nuestra escuela. Mi iniciativa principal es de proveer el liderazgo que facilitará un ambiente escolar para proveer instrucción diferencial, que llene las necesidades de cada estudiante lo mejor posible, dependiendo de sus capacidades. El programa educacional debe de retar académicamente, engranar a cada estudiante enlazando el currículo a conocimientos previos y experiencias, también tiene que ser excitante para promover la exploración de nuevas ideas.
Padres, maestros, personal de apoyo y la administración, todos tiene un papel importante para animar a nuestros niños a aprender de manera activa.
Es mi deseo sincero proveer y aumentar oportunidades para nuestros estudiantes a adquirir las destrezas para ser ciudadanos productivos en esta sociedad que está cambiando constantemente.
Por medio de una sociedad unida y colegial con todos asociados con la Escuela Sassarini, confío que podemos hacer de nuestra escuela un lugar mejor para que nuestros estudiantes aprendan y crezcan.
Respetuosamente,
Jacqueline Parker, Directora